Parto configurando il server o il raspberry che dovrà fornire la connessione di rete al raspberry in cui installerò zeroshell.
Nel post
Raspberry – bridge wifi – ethernet
la configurazione della rete mi aveva portato a definire il file interfaces nella seguente maniera:
allow-hotplug eth0
iface eth0
inet static address 10.0.0.1
netmask 255.255.255.0
network 10.0.0.0
broadcast 10.0.0.255 
auto wlan0
allow-hotplug wlan0
iface wlan0 inet dhcp
wpa-conf /etc/wpa_supplicant/wpa_supplicant.conf iface default inet dhcp 
Tale configurazione non permette la possibilità di connettersi in ssh o con l'interfaccia web con Zeroshell in quanto esso risponde all'indirizzo 192.168.0.75.
Quindi ho modificato:
address 192.168.0.1
network 192.0.0.0
broadcast 192.0.0.255
Quindi ho modificato il file dnsmasq nella seguente maniera:
nano /etc/dnsmasq.conf
interface=eth0 # Use interface eth0
listen-address=192.168.0.1 # Specify the address to listen on
bind-interfaces # Bind to the interface
server=208.67.222.222 # Use OpenDNS
domain-needed # Don't forward short names
bogus-priv # Drop the non-routed address spaces.
dhcp-range=192.168.0.10,192.168.0.50,12h # IP range and lease time
tutto il resto della configurazione rimane invariata.
Per installare Zeroshell ho scaricato l'ultima versione dal sito:
https://zeroshell.org/download
e quindi scelta l'ultima versione.
Poi salvando il file .gz lo scompatto attraverso Winzip se sono sotto Windows.
a questo punto utlizzo w32diskimager per copiare l0immagine nella mia microsd da cui partirà il sistema operativo.
Quindi collego il raspberry nel quale ho installato Zeroshell.
E dal browser del raspberry o da un qualunque host collegato alla rete il cui server è il raspberry stesso posso digitare sul browser:
https://192.168.0.75 e comparirà la seguente schermata: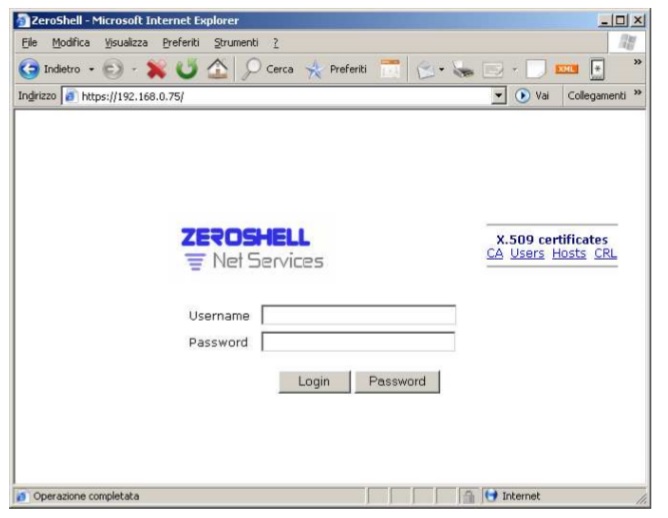 login admin
password zeroshell
Per poter permettere di accedere ad internet bisogna impostare il default gateway:
Si accede al Raspberry in cui è installato Zeroshell, si selezione
<I> IP manager
<G> Set Default Gateway
Si inserisce l'indirizzo IP presente nel Raspberry o Router che fa da gateway
Per usare la scheda wifi del raspberry bisogna seguire i seguenti passi:
<W> wifi manager
<N> new subsystemID
invio lasciando il nome di default
<1> Access Point
SSID dare il nome che si vuole alla rete wifi che comparirà nell'elenco delle wifi.
Hide ssid mettere no
per adesso scelgo di non usare la crittografia e lasciare la rete libera.
Attivare ssh per accedere al pannello di controllo
Si entra tramite il browser: https://192.168.0.75
quindi setup e scegliere il menù ssh, attivarlo e salvarlo.
Basta quindi aprire una sessione ssh:
ssh admin@192.168.0.75 e dopo aver immesso la password si è nel sistema.
Creare il bridge tra la WLAN00 e ETH0
sempre dal browser di va su setup e su network, impostare bridge scegliendo le due componenti precedenti.
Attivare il captive portal
Si va su CaptivePortal e si sceglie come interfaccia WLAN00.
Attivare dhcp
Sempre utilizzando l'interfaccia grafica si va su dhcp e si seleziona il bridge precedentemente scelto e come default gateway mettere quello impostato precedentemente (192.168.0.1) ad esempio